The Woman in Black (1987)
The Woman in Black
is one of the most significant plays to be associated with the town of Scarborough. The play premiered at the Stephen Joseph Theatre in the Round in 1987 before going on to the second longest-ever run of a play in the West End and being produced around the world.

The play was adapted from the Scarborough-born novelist Susan's Hill's acclaimed novella,
The Woman in Black
, by playwright Stephen Mallatratt and opened in the small end-stage studio space of the Stephen Joseph Theatre in the Round. It was described as a 'Christmas stocking filler' which made a virtue of its limited budget which restricted it to a cast of two speaking roles with the bare minimum of props.

The original production was directed by Robin Herford who went on to direct every recast of the play in the West End and to direct it around the world. The original production starred Jon Strickland, Dominic Letts and Lesley Meade.

Inarguably, Alan Ayckbourn and his plays are most commonly associated with Scarborough and theatre in the round, but
The Woman in Black
has had a huge theatrical impact and is a highly significant part of Scarborough's cultural heritage.
Novel:
The Woman in Black
by Susan Hill

Published:
1983


Stage Adaptation:
Stephen Mallatratt

Play Publisher:
Samuel French
Other Media Adaptations:

Television (1989)
Radio (1993, 2004)
Film (2012)
The Woman in Black on Stage
World Premiere:
11 December 1987 - 2 January 1988

Venue:
The Studio, Stephen Joseph Theatre in the Round


London Premiere:
11 January 1989

Venue:
Lyric Theatre, Hammersmith


London Transfer:
7 June 1989 - 4 March 2023

Venue:
The Fortune Theatre, London
"I did not believe in ghosts…"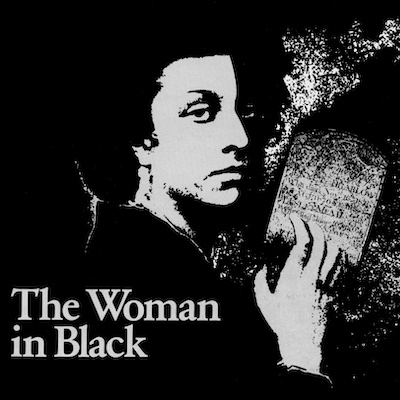 All research & original material is by & copyright of Simon Murgatroyd, all rights reserved 2023 All other material is copyright of the named copyright holder. Please do not reproduce any material without permission. For enquiries, email: archive@alanayckbourn.net

With thanks to Scarborough Theatre Trust for reproduction of archival material pertaining to The Woman in Black.